An interprofessional community
The N&AHPs Committee welcomes all health and social care professionals working in or affiliated with intensive care who are not physicians, such as nurses, pharmac(olog)ists, physiotherapists, psychologists, nutritionists and other allied health professionals.
We share knowledge, interests, experiences, best practices, and challenges in our work.
N&AHPs can take advantage of a special membership fee of only 60 euros per year.
Join our ESICM community and benefit from all the advantages the Society offers, including international networking opportunities, educational tools and resources, leadership opportunities and access to the latest scientific resources to further your career.
Do you wish to get involved in the N&AHPs educational, clinical and research activities?
Or do you have any ideas for future projects and collaborations?
We look forward to your suggestions and comments! Contact us at nahp@esicm.org.
Education – Training Programmes and Webinars

Our Bedside Tool for Nurses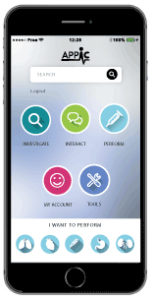 Since 2017, AppIC has been the application designed by healthcare professionals for healthcare professionals to provide state-of-the-art evidence-based practices in critical care nursing.
Easily accessible and user-friendly, AppIC is currently being updated by expert Nurses & Allied Healthcare Professionals within ESICM. In addition to adult Critical Care Nursing content, it will include paediatric, neonatal and physiotherapy content.
Suggested by N&AHPs Experts
In this icTV interview, Advanced Critical Care Practitioner, Carole Boulanger, describes the rationale for advanced nursing training and updates on the current state of practice in the UK and Europe.
Often considered a healthcare complication of the past, pressure injuries sadly remain an issue for long-term ICU patients – one that threatens the safety of these patients and, as such, requires study and, ultimately, solutions.
The objective of this multicentre International one-day prevalence study from the ESICM Trials Group is to provide an up-to-date, international "global" picture of the extent and patterns of pressure injuries in ICUs.
Co-PI, Stijn Blot, describes the rationale for DecubICUs and outlines the aims.
Stijn Blot discusses considerations surrounding the use of peripherally-inserted central catheters versus central venous catheters in the ICU in this icTV interview.
Physiotherapy Transversal Working Group
The working group for Physiotherapy seeks to establish a global ICU network of physiotherapists to increase the profile of physiotherapy within ESICM and the wider critical care community. The group aims to develop a multidisciplinary network to allow the exchange of ideas and the promotion of research activity to support physiotherapy within the ICU.