INACTIC
ESICM is pleased to report the successful completion of the Erasmus+ funded project INACTIC [International Nursing Advanced Competency-based Training for Intensive Care]. The aim of this two-year project was to develop a set of detailed competencies required of an advanced level intensive care nurse and to map these competencies against country-specific and multi-country policies and evidence for advanced practice nursing.
The project also identified the feasibility and support for the application of these competencies in a number of countries and developed an outline curriculum based on the competencies.The competencies were then mapped against existing online resources, many of which are already in existence at ESICM, providing the opportunity for individualised educational pathways.
A prototype online educational resource was then designed to support the competencies and curriculum. This curriculum will be the only advanced nursing competency curriculum spanning European countries for critical care.
The project has resulted in competency statements in 8 different languages and a framework of online resources mapped to these competencies.
N&AHP Learning Programmes
ESICM launched in 2020 the "N&AHP Hot Topics in ICU" programme. It consisted of a series of six webinars. The 25 top-scoring N&AHPs in the continuous assessment of this programme were rewarded free entrance to LIVES 2020. 
Detection and management of secretion retention, is it worth worrying about?
Speaker: George NTOUMENOPOULOS, Australia
Moderator: David McWILLIAMS, United Kingdom
ICU Delirium Management & Prophylaxis
Speaker: Mark VAN DEN BOOGAARD, The Netherlands
Moderator: Margo VAN MOL, The Netherlands
Renal Replacement Therapy
Speaker: Silvia CALVINO – GUNTHER, France
Moderator: Anne-Sophie DEBUE, France
Management of Raised Intracranial Pressure
Speaker: Chris BRUNKER, United Kingdom
Moderator: Marta BORKOWSKA, Belgium
Pressure Ulcers in ICU
Speakers: Stijn BLOT, Belgium & Sonia LABEAU, Belgium
Moderator: Nikolaos EFSTATHIOU, United Kingdom
N&AHP contribution to Sepsis
Speaker: Elizabeth PAPATHANASSOGLOU, Canada
Moderator: Katerina ILIOPOULOU, United Kingdom
Critical Care Rehabilitation
Critical Care Rehabilitation
Background of the Problem
Critical Care Rehabilitation
The Evidence for Early Rehabilitation
Critical Care Rehabilitation
Practicalities of Commencing and Progressing Rehabilitation
Critical Care Rehabilitation
Overcoming Challenges
Critical Care Rehabilitation
Physical Rehabilitation after ICU
Infection control
Risk factors and epidemiology of infection
Infection control
General infection prevention and control
Infection control
Targeted infection prevention: Ventilator – associated pneumonia
Infection control
Central-line associated bloodstream infection
Infection control
Prevention of device associated infection through quality improvement strategiest
Infection control
Early Detection and Recognition of Sepsis
Infection control
Essentials of Antimicrobial Therapy
Infection control
Infections in immunocompromised hosts
Infection control
Infection prevention in special populations: The young and old
Infection control
Nebulized antibiotic therapy in mechanically ventilated patients
Infection control
Infectious Hazards for the Intensive Care Health Care Worker
Special Membership Fees for 
N&AHPs
SPECIAL OFFER: From now on, N&AHPs can take advantage of a special membership fee of only 60 euros per year.
Join our ESICM community and benefit from all the advantages the Society offers, including an abstract writing workshop, education and web-based learning, Master Classes, research and the application for intensive care professionals created by intensive care nurses.
Achieve success in your professional career !
Closer integration of N&AHPs in ESICM Master Classes
ESICM is creating joint strategies for further educational & scientific activities focusing on cross-cutting themes and an interprofessional approach.
As part of a closer integration and collaboration process with the Division of Professional Development, N&AHP experts are now joining the faculties of our master classes and get actively involved.
N&AHPs wishing to participate in the ESICM training programmes held in Brussels can do so and benefit from special reduced fees, with further benefits.
Watch the interview with Johannes MELLINGHOFF RN, BSc (Hons), MSc, FHEA, Senior Lecturer in Critical Care, Faculty of Health & Social Care Education, Kingston University and St George's, University of London, UK.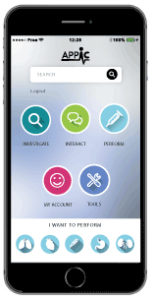 The first professional intensive care app designed for nurses, by nurses!

Available
   > Google play
   > App store
Already downloaded and used the App?  > Give us your feedback!
Contact us

Would you like to get involved in N&AHP initiatives?  Do you have ideas for future projects or collaborations?
All questions and comments are welcome!
Research – Trials
NAPMA: Nurse & AHP membership survey. We are interested as a Society in hearing the views of both our members and potential members on what membership means to you and how we can improve what we do.
Survey about non-physician providers (physician assistants and nurse practitioners) on the ICU in Europe
Survey organised by Herman Kreeftenberg, HSRO section
Benbenishty J et al. The migrant crisis and the importance of developing cultural competence in the intensive care unit
> Read more
NutritionDay in Nursing Homes – The Association of Nutritional Intake and Nutritional Interventions With 6-Month Mortality in Malnourished Residents.
> Read more
N&AHP Committee Chair, Carole Boulanger, updates us on the numerous activities designed for nurses and allied healthcare professionals, including an exciting new educational course, practical smartphone App, nurse-led research studies and LIVES abstracts…
Contact N&AHP here: nahp@esicm.org.
DecubICUs: One-Day Prevalence Study on Pressure Injuries
Often considered a healthcare complication of the past, pressure injuries sadly remain an issue for long term ICU patients – one that threatens the safety of these patients and as such, requires study and ultimately, solutions.
The objective of this multicentre International one-day prevalence study from the ESICM Trials Group is to provide an up-to-date, international "global" picture of the extent and patterns of pressure injuries in ICUs.
Co-PI, Stijn Blot, describes the rationale for DecubICUs and outlines the aims.
PICC use in the ICU:
Benefits & Pitfalls
Stijn Blot discusses considerations surrounding the use of peripherally-inserted central catheters versus central venous catheters in the ICU in this icTV interview.
ADVANCED NURSING PRACTICE:
Where are we in Europe?
In this icTV interview, Advanced Critical Care Practitioner, Carole Boulanger, describes the rationale for advanced nursing training and updates on the current state of practice in the UK and Europe.