The European Society of Intensive Care Medicine
The European Society of Intensive Care Medicine is an Association of individual persons. Founded in March 1982 in Geneva, Switzerland, ESICM is a non-profit making international association.
ESICM supports and promotes the advancement of knowledge in intensive care medicine, in particular the promotion of the highest standards of multidisciplinary care of critically ill patients and their families through education, research and professional development.

MESSAGE FROM THE PRESIDENT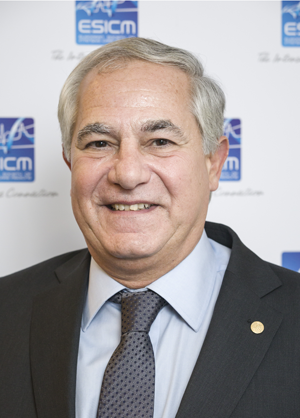 Welcome to the ESICM Patient & Family webpage, specially designed for patients and their relatives affected by critical illness and spending time in intensive care units (ICUs) across the globe.
By explaining the work of the doctors, nurses and supporting medical staff in ICUs, we hope to demystify the equipment and techniques they use, to translate some of the technical jargon and to help you better understand what happens in an ICU.
We can appreciate the emotional turmoil and difficulties experienced by patients and their loved ones, and it is my hope that this page may support you during this process. For this reason we have teamed up with ICU Steps – a support group based in the UK – to provide the links to a number of important resources and useful information available in 17 different languages.
While what you are experiencing as a patient or a relative may at times feel isolating and overwhelming, we would always encourage you to ask questions and to seek the advice of the ICU team. They are there for you.
Please take the time to watch the film "ICU faces" on this page. This is a recording of the personal experiences of many patients, relatives and staff, who have shared their memories and experiences with us, and now you.
With my sincere good wishes
Jozef Kesecioglu
ESICM President
Latest News
The European Patient Forum (EPF) Congress took place in Brussels from 12-14 November 2019. The congress focused on public and patient involvement (PPI) in research, care and medical training, and speakers included patient representatives, physicians, policy-makers, scientific journal editorials and scientists.
It was suggested at the congress that involving patients and citizens with various stakeholders could help create more efficient health systems and reduce unnecessary costs. To improve healthcare systems, patients and citizens need to be involved at various levels, as their experience can help design better care and prevention programmes, adapted to their actual needs.
ESICM's full report of the EPF Congress can be found here
Joint EFGCP & EFPIA Workshop "Roadmap Initiative to Good Lay Summary Practices" .
Many patients are involved in clinical trials but the understanding of the patients, their families and the general public about research projects and outcome is limited. There is no guidance for all types of sponsors on how best to handle the development process of Lay Summaries and how best to ensure reliable dissemination so that the ultimate goals can be achieved: increase of clinical research transparency, patients' and public's understanding of clinical research as well as feedback to study participants about the results of their study.
ESICM's full report of the workshop will be published soon.
The Patient Safety Policy Summit will take place on March 3rd and 4th 2020 in the European Parliament.
Patient safety is "The prevention of errors and adverse effects to patients associated with health care" (World Health Organisation), it has wide and varied application depending on the clinical and medical context but is particularly relevant to patients undergoing surgery and other interventional procedures.
More information about the event here.
ICUsteps was founded in 2005 by ex-patients, their relatives and ICU staff to support patients and their families through the long road to recovery from critical illness. Our aims are to support patients and relatives affected by critical illness, promote recognition of the physical and psychological consequences of critical illness through education of the medical profession and the general public, and encourage research into treatment and the prevention of these issues.
ICUsteps is the United Kingdom's only support group for people who have been affected by critical illness and has helped many former patients, their relatives and medical staff from organisations around the world.ICU steps https://icusteps.org/guide provides a great deal of information for patients and relatives around an ICU stay. You will find high quality resources on this site in 17 different languages to provide information and support.
Aims
• To support patient care across the globe
• To create international cooperation on education and health management in Intensive Care Medicine
• To transfer knowledge by developing educational and training initiatives that will contribute to the improvementof conditions and outcome of critically ill patients in Low and Middle Income Countries (both in the number & quality of lives saved)

JOIN ALIVE!