ARDS phenotyping: A new era for clinical trials?
KEYNOTE PRESENTATION
We look to the future in ARDS research trials with Carolyn Calfee, who will explore how identifying subphenotypes in ARDS might be key in selecting patients for future clinical trials. Don't miss this special keynote lecture with a leading catalyst in this emerging area of research!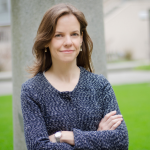 This presentation will give an overview of recent research on ARDS subphenotypes, including new data on durability of these subphenotypes over time and on differential response to pharmacotherapy in secondary analyses of completed trials. In addition, the presentation will discuss how subphenotyping strategies might allow development of a precision approach to clinical trials in the ICU, including potential approaches, current roadblocks, and the importance of prospective validation.
Watch the full presentation:
---
Keynote Lecture ~ ARDS phenotyping: A new era for clinical trials?
23.10.2018, 08:00 – 08:20, room PARIS
#LIVES2018 #lung