The NEXT committee and its members play a pivotal role in the success of the ESICM's annual congress, LIVES.
What are our goals at LIVES 2018 in Paris?
Unite and represent the young generation of intensive care physicians

Assess the needs of young intensivists and provide a platform for information and exchange

Adapt educational resources and congress programmes to the needs of our generation

Provide a day devoted to young intensivists within the annual international LIVES congress with a focus on practical topics that can improve daily clinical practice and further promote research networking

Enlarge and empower the young community of ESICM
Are you looking for a place to stay in Paris during LIVES 2018?

Or perhaps you live in the Paris area & have extra space in your home to host someone attending the congress?
ICaBed4U has been created by ESICM, SRLF and SFAR for all nursing and allied health professionals and members in training looking to connect and share accommodation information for the upcoming annual congress 20-24 October 2018 at the Palais des Congrès.
WANT TO JOIN?
Members can sign up as a host or a user, using our dedicated ICaBed4U Facebook group.
Click here to find or offer somewhere to stay!
NEED MORE INCENTIVE?
ESICM is offering the hosts of the first 20 successful "matches" FREE entry to LIVES 2018!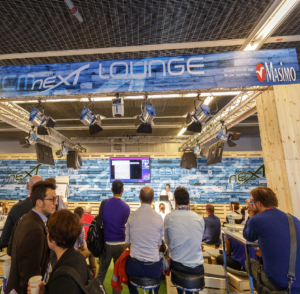 The NEXT Lounge at the LIVES congress exhibition offers NEXT members a place to network, enjoy a parallel scientific programme and challenge themselves.
LIVES 2018 – NEXT LOUNGE PROGRAMME HIGHLIGHTS
Opening reception
Kick off the congress with keynotes and surprises during the opening session
NEXT Happy Hour
Connect with NEXT in the lounge following the opening session, and daily afternoons during the core congress
NEXT Blackboard Lectures
Learn from experts daily
NEXT 2025: The future of intensive care


Join the intensivists of tomorrow! Let's shape the future of intensive care medicine together to keep pace with technology advancements and scientific discoveries!

NEXT Lunch Session & Quiz
NEXT My case reviewed by an expert
Get a speaker from one of the coolest session of the day in the hot seat for a complementary talk with increased time for Q&A
NEXT Challenging debate
Hot practical topics, interactive discussion with International experts
NEXT & DPD
Audience's choice on all topics concerning professional development
NEXT Young Lecturer Award presentations & awards
NEXT DAY 2018
ECMO: From big bang to black holes
Course Directors
Gennaro De Pascale, Consultant, NEXT congress representative

Björn Weiss, Consultant, Chair of ESICM NEXT
Course Content
Therapeutic strategies in refractory hypoxemia

Haemodynamics and ventilation on ECMO

Weaning from ECMO and ventilation

Complications, end-of-life decisions on ECMO

Coagulation, anticoagulation and haemotherapy

Low-flow devices and much more


For more information about registration, see the LIVES 2018 webpages.
• Get an up-to-date overview on the use of ECMO in the ICU
• Stay tuned for more hot topics in the field
• Participate in a highly interactive course, blending theory with clinical case discussions and debates
• Exchange best practice and network with leading experts and peers
• An application has been made to the UEMS EACCME® for CME accreditation of this event
#ESICMNEXT
APPLICATION PROCESS
Applications for the 2018 YLA are now open until 7 October 2018. Click here to apply
EVALUATION
1. CV
Applicants are asked to provide a brief CV (2 sides A4) delineating teaching/lecturing activities.
2. Letter of recommendation
A letter of recommendation is required from a senior member of the candidate's institution.
3. Structured letter of motivation
What makes a good lecturer? (100 words)
Why should the ESICM award you with the young teaching award? (100 words)
4. Proposed topic
DECISION
The six highest scoring candidates will be selected as finalists. The selection panel decision is final.
Young Lecturer Award 2018 @LIVES2018
NEXT Young Lecturer Award
Applications for the 2018 YLA are now open until 7 October 2018. Click here to apply
OBJECTIVE
The Young Lecturer Award (YLA) has been formulated to showcase excellent examples of teaching among young intensive care professionals. It is a unique opportunity for intensive care professionals with an interest in education to demonstrate their skills and have their expertise recognised.
ELIGIBILITY
Who is eligible to apply for the YLA?
Intensive Care professionals with a demonstrable interest in critical care education who are ESICM members and < 40 years
Doctors


who are specialising in intensive care medicine and have a minimum of 2 years clinical experience in intensive care

AHPs/nurses


Experience as nurse/AHP for a minimum of 2 years in intensive care
What is necessary for application?
Interested ESICM members should complete and submit the application form during the registration period.
Additionally, applicants are required to provide a CV (2 pages), letter of recommendation and a structured letter of motivation.
GENERAL REQUIREMENTS
Applicant has registered for conference (necessary pre-requisite to participate)

Applicant is member of ESICM (necessary prerequisite to participate)
Six finalists will be selected on their CV, teaching experience, letters of recommendation and application form. They will be invited to give a 20 minute presentation at the LIVES 2018 NEXT Lounge on Monday or Tuesday in English. Interaction with the audience is encouraged.
The title of the presentation will be on the theme of "The most important lesson for a first year ICM professional". The finalists are allowed to decide on their preferred topic and will be asked to design and deliver the presentation.
A laptop, projector and blackboard will be provided.
The jury will consist of ESICM NEXT Committee members, congress faculty members and trainees.
The winner will be announced at a presentation during the congress by the ESICM President and he/she will receive free registration for LIVES 2019.
NEXT Master Class
ICM research: Everything you need for a cracking start!
Course Directors
Stefan Schaller, senior physician intensive care, Department of Anaesthesiology, Klinikum rechts der Isar der TUM, Munich, Germany, NEXT Committee, ESICM

Burcin Halacli, Turkey; Ankara; (Intensivist, Consultant), NEXT and Research Committee member, ESICM
Course Content
Hypothesis, study design and target population

The team, grant writing, sample size calculation

Statistical analysis, randomisation strategies and alternatives, control groups, data collection and big data

Where and how to present and publish, answering reviewers' comments

How ESICM and NEXT can help with your research

For more information about registration, see the LIVES 2018 webpages.
• Get up-to-date on how to successfully carry out a research project, from design and implementation, to analysis and presentation/publication
• Participate in a highly interactive course
• Exchange best practice and network with leading experts and peers
• An application has been made to the UEMS EACCME® for CME accreditation of this event
#ESICMNEXT