Vasopressors (A Gordon)
Surviving Sepsis Campaign: International Guidelines for Management of Sepsis and Septic Shock: 2016 Authors Authors and affiliations
Comparison of Dopamine and Norepinephrine in the Treatment of Shock
Vasopressors for hypotensive shock (Cochrane review)
Catecholamines for shock – equally good or equally bad? – Singer
Issue with adrenaline is that lactate becomes hard to use as a target for therapy.
Association Between US Norepinephrine Shortage and Mortality Among Patients With Septic Shock
Vasopressin in shock – vasoconstrictor, V1 receptor on vascular smooth muscle, binds to V2 and oxytocin receptor. Septic shock – relative vasopressin deficiency
The VANISH Randomized Clinical Trial
Vasopressin versus Norepinephrine in Patients with Vasoplegic Shock after Cardiac Surgery: The VANCS Randomized Controlled Trial
Future trials on – angiotensin II, selepressin
Gordon – 1st line = noradrenaline. Will escalate to vasopressin (up to 0.06U/min). No dopamine.
Inotropes (A Mebazaa)
Acute heart failure and cardiogenic shock: a multidisciplinary practical guidance
the guidance advocates the use of lung ultrasound in the acute phase to help guide therapy
2016 ESC Guidelines for the diagnosis and treatment of acute and chronic heart failure
The Effectiveness of Inodilators in Reducing Short Term Mortality among Patient with Severe Cardiogenic Shock: A Propensity-Based Analysis
The initial use of inopressors alone appears to be associated with a poorer prognosis compared to a regimen of inopressors and inodilators in patients who are admitted for cardiogenic shock.
Pulmonary hypertension management (S Orfanos)
PULMONARY HYPERTENSION (GUIDELINES ON DIAGNOSIS AND TREATMENT OF)
Comprehensive Invasive and Noninvasive Approach to the Right Ventricle–Pulmonary Circulation Unit
Prognostic factors and outcomes of patients with pulmonary hypertension admitted to the intensive care unit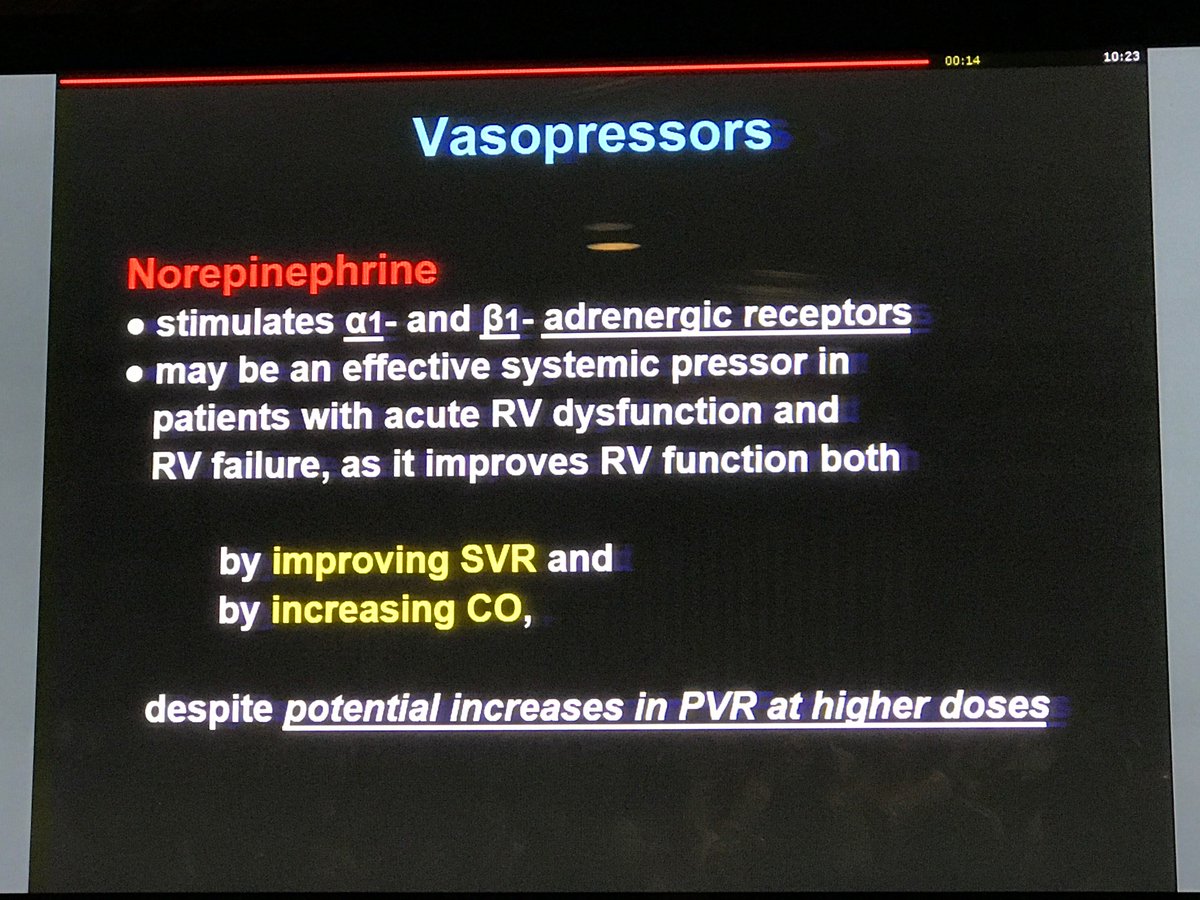 Prostacyclin can reduce PVR and improve RV function but caution in LV failure. It can exacerbate V/Q mismatch leading to worsening gas exchange and hypoxaemia
Inhaled NO potent pulmonary vasodilator
Is there a safe plateau pressure in ARDS? The right heart only knows.