Getting the most out of arterial blood pressure monitoring (M Pinsky)
Arterial pressure waveform – Systolic, mean, diastolic and pulse pressure
Systolic AP (which changes depending on where you measure it)
LV SV
Ejection velocity (contractility)
Arterial elastance
Sepsis reverses the normal pulse pressure amplification down the arterial tree – therefore you would be underestimating the pressure in the aorta.
Diastolic pressure – determines coronary blood flow
vascular tone
arterial resistance
heart rate
Large arteries are capacitor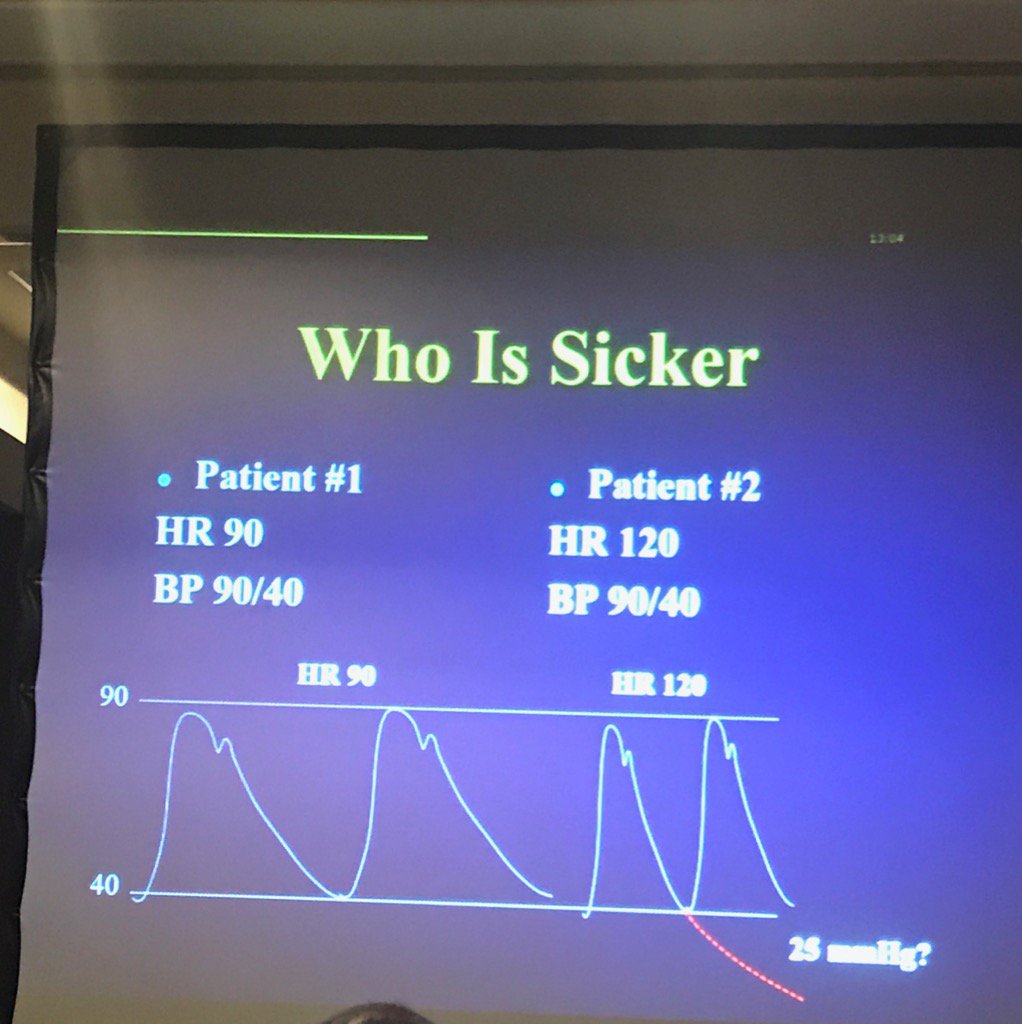 Faster heart rate means that the diastolic pressure hasn't had time to stabilise – it may actually be much lower (vasodilatation). Increased HR is the main physiological response to vasodilation to maintain diastolic pressure.
Perfusion pressure = input – output pressure
Personalizing blood pressure management in septic shock
Pulse pressure influenced by
SV
Central arterial elastance
vascular stiffness, blood viscosity
The relationship between stroke volume and arterial pressure is determined by the elastance
Dynamic arterial elastance to predict arterial pressure response to volume loading in preload-dependent patients
Cardiac output monitoring: invasive or non-invasive? (T Scheeren)
Invasive monitors
Thermodilution (pulmonary thermodilution is considered the gold standard)
Pseudo randomised thermo signal (Vigilance)
Mini invasive
pulse contour analysis e.g. Flotrac, Vigileo

percentage error from 13 to 75%

Doppler techniques
Non-invasive
The Use of Pulmonary Artery Catheter in Sepsis Patients: A Literature Review
National Trends in Use and Outcomes of Pulmonary Artery Catheters Among Medicare Beneficiaries, 1999-2013
Consensus on circulatory shock and hemodynamic monitoring. Task force of the European Society of Intensive Care Medicine
Perioperative cardiovascular monitoring of high-risk patients: a consensus of 12
Is CVP useful? PRO (S Magder)
Right Atrial Pressure in the Critically Ill: How to Measure, What Is the Value, What Are the Limitations?
CVP still the most used variable to guide fluid management in FENICE! 
CVP does not
indicate magnitude of blood volume
does not predict response to fluid
CVP normally low, elevated CVP needs explanation. CVP single value is not helpful.
The clinical role of central venous pressure measurements.
Systematic review including re-analyses of 1148 individual data sets of central venous pressure as a predictor of fluid responsiveness.
Where is your reference/zero point???
What point of the wave are you recording your value?
CVP is best used with some measure of flow. Fall in CO with fall in CVC = return function (volume) problem. Fall in CO but rise in CVC = primarily pump problem
Most useful in response to therapy.
Fluids after cardiac surgery: a pilot study of the use of colloids versus crystalloids.
Is CVP useful? CON (P Marik)
CVP is useless (mostly) and harmful (almost always)
Iatrogenic salt water drowning and the hazards of a high central venous pressure
Does central venous pressure predict fluid responsiveness? A systematic review of the literature and the tale of seven mares.
CVP > 8 predicts AKI – Association between systemic hemodynamics and septic acute kidney injury in critically ill patients: a retrospective observational study
Impact of Initial Central Venous Pressure on Outcomes of Conservative versus Liberal Fluid Management in Acute Respiratory Distress Syndrome
Central venous pressure is a stopping rule, not a target of fluid resuscitation.